Wood Vacuum Tube Pre-Amplifier w/ Bluetooth 5.0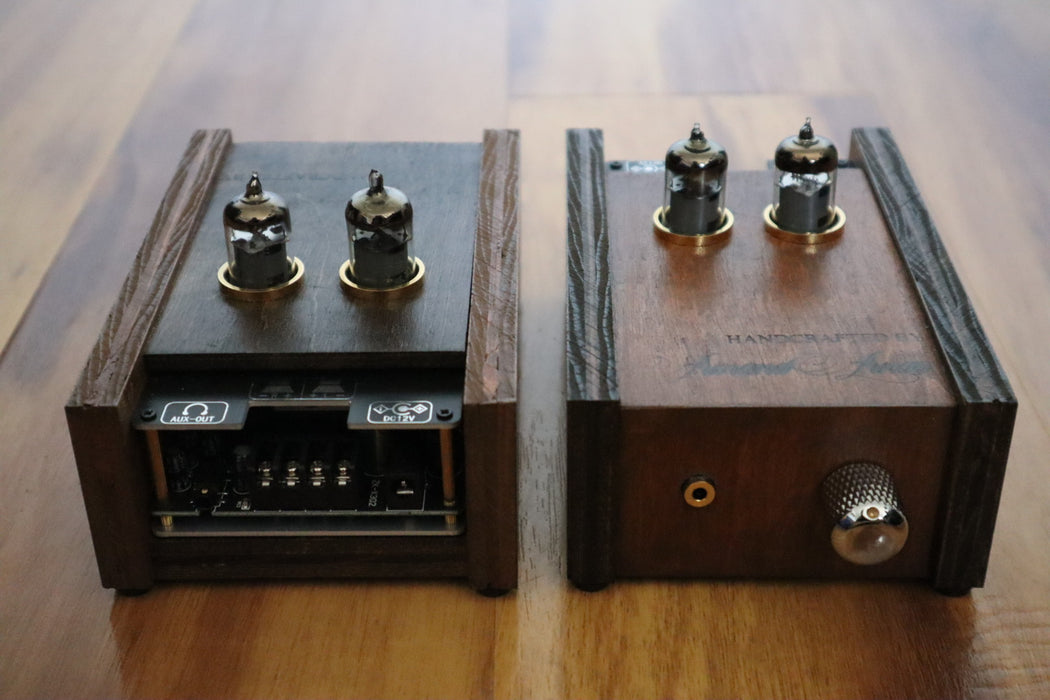 Handcrafted vintage style tube preamp made of birch plywood!
Features:
1. 6J1 precise matching 30W+30W
2. The tube of this product is replaceable and supports 6J1, 6m1, 6J2, 6m2, EF95, 6AK5, GE5725W, GE5654W and many other small 7-pin tubes.
3. Bluetooth 5.0 + AUX input
Instructions:
1. Turn the switch/volume knob counterclockwise to ensure that the switch is off.
2. Install the randomly worn electron tube into the electron tube holder according to the direction (the electron tube is not divided into left and right, check whether the pin is deformed before installation, if there is any deformation, you can gently correct it with your hands, and slowly insert the electron tube vertically into the electron tube holder during installation. Be careful not to shake as much as possible).
3. The power amplifier output interface connects to passive speakers (R connects to the right channel, L connects to the left channel) or the AUX audio output interface connects to active speakers.
4. Connect the power adapter (power adapter AC110V and AC220V are common).
5. Turn the switch/volume knob to turn on, and the indicator light flashes.
6. This product has two audio input modes: AUX wired and Bluetooth wireless. AUX wired input is preferred. Choose the audio input method you want.
7. Rotate the switch/volume knob to adjust the volume to an appropriate level.
8. Enjoy the charm of tube amplifiers quietly.
Description:
Adapter power supply: DC12V; 3A
Audio input: AUX + Bluetooth
Input sensitivity: 800mV
Adapted speakers: 4-8Ω; 5-50W
Power output: MAX 30W*2 @4Ω
Frequency response range: 20Hz-20KHz
Warnings:
1
. Do not place the machine in a high temperature and high humidity environment.
2. Do not plug in or replace the tube when the power is on, otherwise your tube and machine will burn out.
3. Do not replace the unmatched tube model, otherwise your tube and machine may burn out.
4. When plugging and unplugging the tube, insert it vertically and don't shake it.